One study block is proposed and most classrooms will be multiple purpose rooms to maximise the use of the space. Classrooms will be used in non-teaching periods for dining, praying, self-study and library activities etc.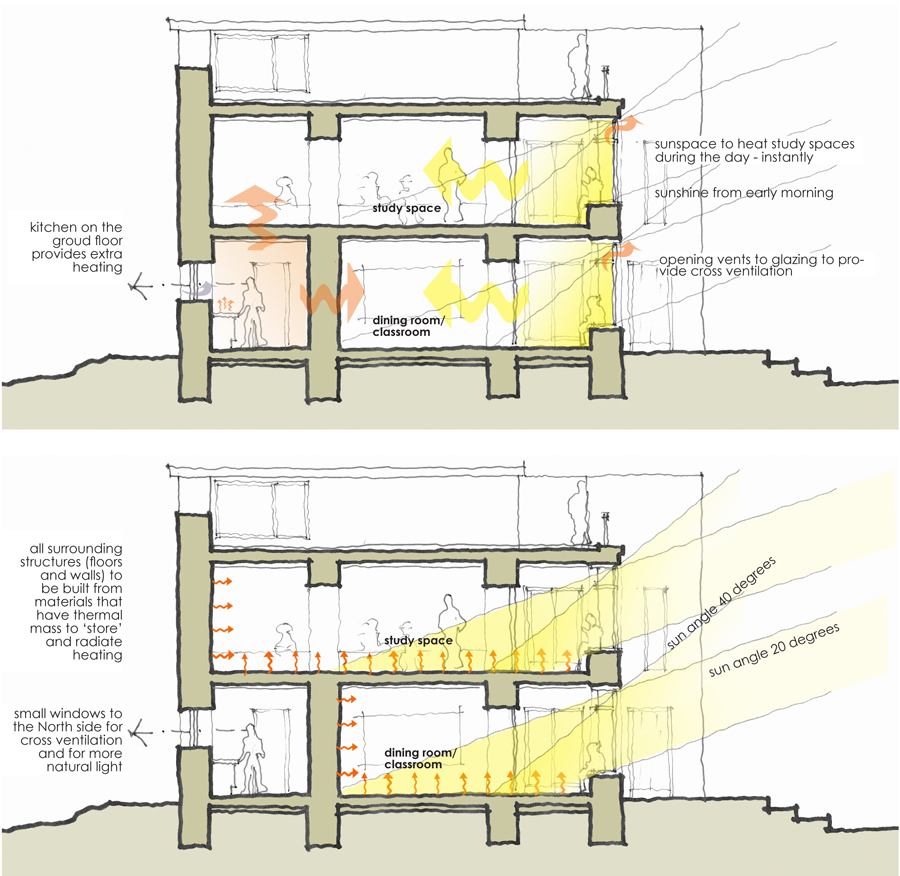 Key design issues:
heating from early morning – the building is orientated to south-east, about 30 degrees off true south in order to catch the morning sun and provide instant heating from the start of the day. direct sunlight is utilised until the thermal mass can take over.
thermal mass – maximize internal exposed thermal mass, so the heat from the solar energy can be stored in the floors and walls. this would dampen down daily temperature fluctuations and provide radiant surfaces that warm in winter and cool in summer.
insulation – outside walls and roof should be well insulated to retain heating.
natural light – it is important to create an inspiring learning environment and there is plenty of natural light within the building to minimize electric light usage.
visual connection to outdoor learning spaces – it is necessary to keep strong relationship between learning spaces to encourage interaction.
cross ventialtion – to deal with possible summer overheating and the relatively large occupancy. There are small windows to the back and opening vents to the sunspace glazing. the lobbies can also be opened up to flush air through at the back of the glazing.
air lock lobbies – to protect sunspace from heat loss while entering the building.